MEET TOM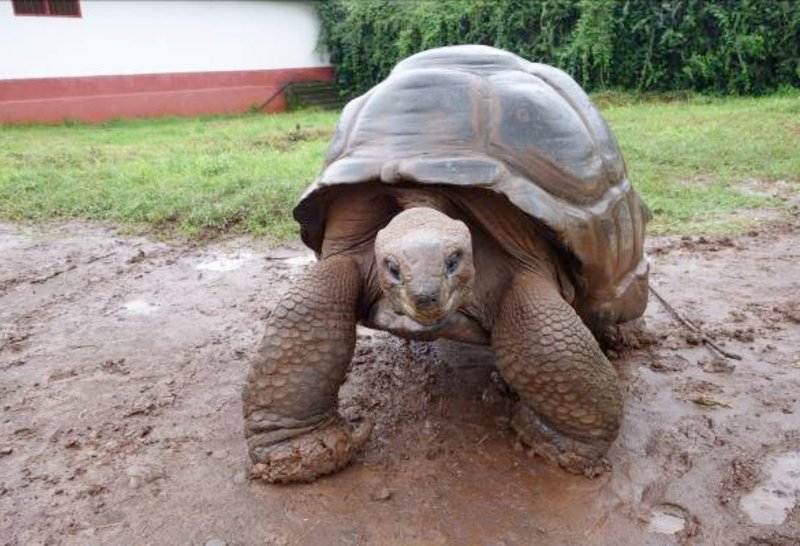 There are very few facts about Tom of which I can be certain, and it is a case of ongoing detection and conjecture.
Tom is about 100 years old, probably more. Our deduction is based on the conversations in 2000 with Mzee Swai (Mzee (pronounced Mzay) is Swahili for respected older man). Mr Swai must have been over 70 at the time, and remembered when he started work as a 14 year old boy. Tom was already on the farm and about 50 cm long and 40 cm high. When we took over the farm, the retired civil servant appeared one day at the farm yard gates as we were pondering if some of the ancient machinery actually worked or was still in place because it was too big to remove. This wiry little old man was in an out of the machinery in no time remembering exactly how this and that had worked. Mzee Swai also told us that the estate owners had brought back this tortoise and his sibling from a holiday. When these owners sold the estate they could only take one of the large tortoises, and so Tom stayed behind. Subsequently we have heard rumours of another large aldabran tortoise in Tanzania, but we have yet to track it down.
When we first took on the estate, Tom came into our care. He has lived most of his life around the farm yard. This is a 2 acre site where all the coffee cherry is brought once picked from the trees. Here the coffee is pupled to remove the fleshy cherry, and wash to remove the remaining mucilage, and dried with frequent turnings on many metres of drying tables. Tom patrols and grazes between the tables and lies underneath them in the cool shade of the drying coffee. Sometimes this is a problem if he stands up straight in a hurry, the tables aren't quite tall enough for him if he is on full alert, although quite tall enough for ambling and grazing beneath
.